Freelance Cameraman

Freelance Cameraman available for location or studio work. We have worked with ITV on their morning live broadcasts, ITN for News at 10, Channel 4 , Discovery Channel,Tyne Tees Television and the BBC.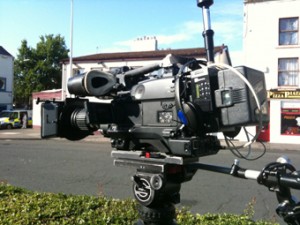 We use Sony PXW X400 ENG cameras for Single or Multi camera recordings with or without a sound man. A range of lighting equipment is available and radio mic's for presenters and interview situations. Auto-cue is also available with an operator.
We have a wide range of experience in both the Corporate and Broadcast field, ranging from news, current affairs, sport, air shows, live news outside broadcasts, documentry to multi camera stage productions, indoor and out.
Call us on 0191 2302745

BROADCAST SAMPLES
GMTV Elaine Wilcox & Malcolm MacDonald from David Nell on Vimeo.
GMTV Richard Arnold – X Factor Final joe mcelderry from David Nell on Vimeo.
Channel 4 News debate – care for the elderly
from
David Nell
on
Vimeo
.
laughing jacks – power of love – live performance 2011 from Dejavu Video Ltd on Vimeo.